SFB, PSQ and SJSU
13/05/09 09:48
Excuse the abbreviations, but these are all places that have been keeping me busy performing and teaching this spring. It's been a very busy and exciting time. I just finished performing Yuri Possikov's "Fusion" ballet with the SF Ballet in San Francisco for the last time for a while. (Hopefully they'll bring it back!) I figure between all the performances we've done since spring of 2008 in SF, the Chicago, NYC and L.A. tours that I've performed "Hard Fairy" by Graham Fitkin before around 20,000 people. It was quite exciting.
Here's a shot of one of our bows on stage with the two pianists I performed the piece with: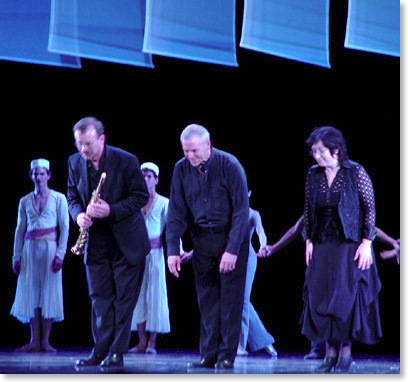 Fusion Curtain Call - Dale Wolford, Michael McGraw and Natal'ya Feygina


The PSQ just completed performing two concerts at University of the Pacific in Stockton and San Jose State University. The highlight was Steve Reich's "New York Counterpoint" with 12 saxophones--a great piece!

Things are winding down at SJSU. It's been a great year, with the strongest group of students I've had. There were 4 wonderful recitals this spring, with seniors Jon Jow, Erez Levi and Rebecca Fielder. Graduate student Jonathan Bautista Lagunte performed a a challenging and musical recital of works by John Anthony Lennon, Victor Morosco's "Blue Caprice," the Dubois "Concerto," and Carl Anton Wirth's "Jepthah," with yours truly on the soprano sax part. We'll be capping the year off with our annual "Sax Sail" on SF Bay next Friday with the entire sax ensemble--should be fun!